New products for EVs, sustainability at BASF
main text
New products for EVs, sustainability at BASF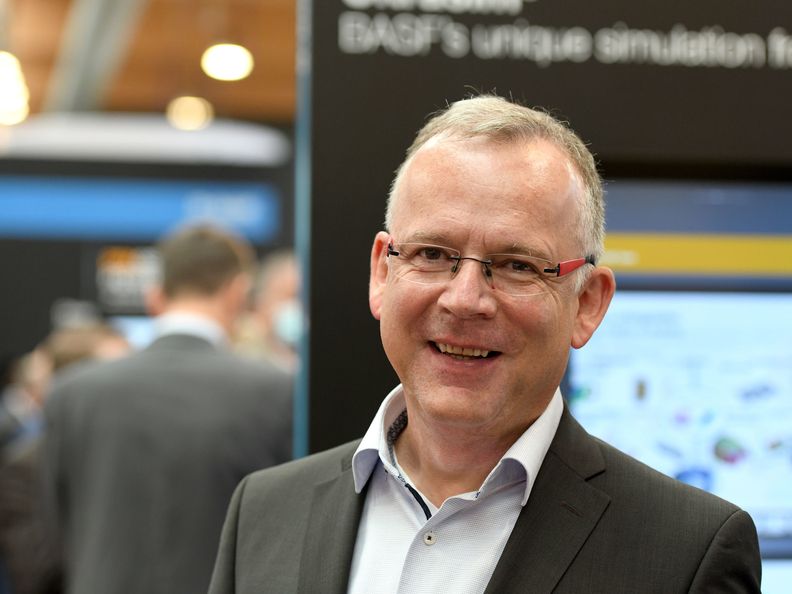 Caroline Seidel Jürgen Becky from BASF at Fakuma 2021 in Friedrichshafen, Germany.
"We're preparing for new trends in e-mobility," Jürgen Becky, senior vice president of performance materials Europe, said Oct. 13 at Fakuma 2021 in Friedrichshafen. "We're developing new safety concepts for our materials in power trains and components."
Materials made by Ludwigshafen, Germany-based BASF also are being used in motors, batteries and battery cases in electric vehicles. The firm's polyurethane foams also have EV applications.
BASF also is finding opportunities for its specialty polyphthalamide (PPA) resins in fuel cells and consumer electronics, according to Abdullah Shaikh, global PPA business management leader. The materials are replacing metal in fuel cells used in powertrains on buses and trains.
In consumer electronics, BASF PPA is used in structural parts for laptops, Shaikh said. The materials also were recently used in components for a Casio watch.
Shaikh said PPA often is selected because of its higher melt temperature, high flow and ability to make very thin parts.
BASF also recently launched a new flame-retardant Ultramid-brand nylon 6/6 grade that expands the portfolio of color-stable, tailor-made engineering plastics for use in electric cars.
Other new material offerings from BASF include:
• An Ultradur-brand PBT grade that can be co-extruded with PVC and is now available with a significantly improved property profile. Officials said that with the new Ultradur, PVC window profiles can be mechanically stiffened in the co-extrusion process.
• An Ultradur grade for the extrusion of films and thermoforming of food packaging. The monomaterial had excellent barrier properties and enables mechanical recycling, officials said.
• A grade of Ultrason-brand polyarylether sulphone (PAES) for household, automotive and electrical/electronic uses.