Signs of price downturn in European recycled plastics as demand falter…
main text
Signs of price downturn in European recycled plastics as demand falters
Recycled PET is the exception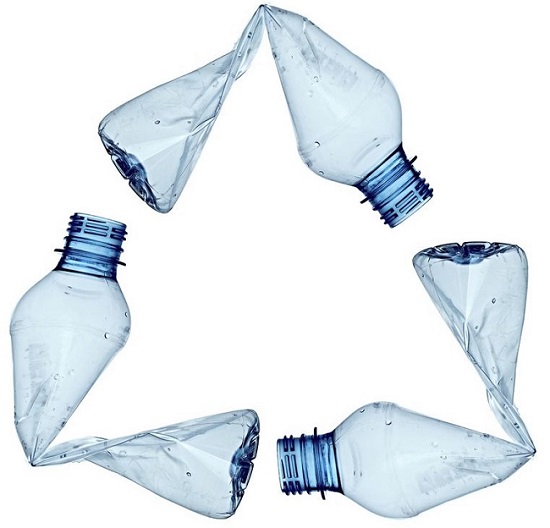 In July, recyclers of most plastics in Europe were able to raise prices thanks to continued demands for their materials. But not all recyclers managed to pass through the full energy and bass material costs.
Recycled PET colored posted a triple-digit price increase as strong demand, particularly from Eastern European converters, outstripped availability. Recyclers of low density polyethylene black extrusion pellet also achieved a large price increase with settlements rising by €50 per tonne as a result of strong demand for construction applications.
The surprise was that clear, food grade recycled PET prices failed to rise for the first time since January 2021. Recycled high density PE black injection molding pellets and recycled polypropylene prices also rolled over from the previous month. All other recycled plastic types registered price gains in the order of €10-30 per tonne during July.
In August, only recycled PET materials registered price gains. Recycled PET clear food grade pellets resumed an upward trend with notations settling €50 per tonne above the previous month. PET clear flake and PET colored flake grades gained around €20 per tonne over the same period.
Several other recycled plastics grade prices declined in August. Recycled HDPE black injection molding pellet prices fell €20 per tonne, Recycled LDPE prices fell between €15-40 per tonne and recycled PP prices were down €20-50 per tonne.
Recycled HDPE colured blow molding pellets and recycled high impact polystyrene prices remained unchanged compared to the previous month.
The price softening trend in August was generally the result of slowing demand, especially from the construction sector. Meanwhile, supply has remained generally satisfactory. Higher price discounts are widely anticipated for September.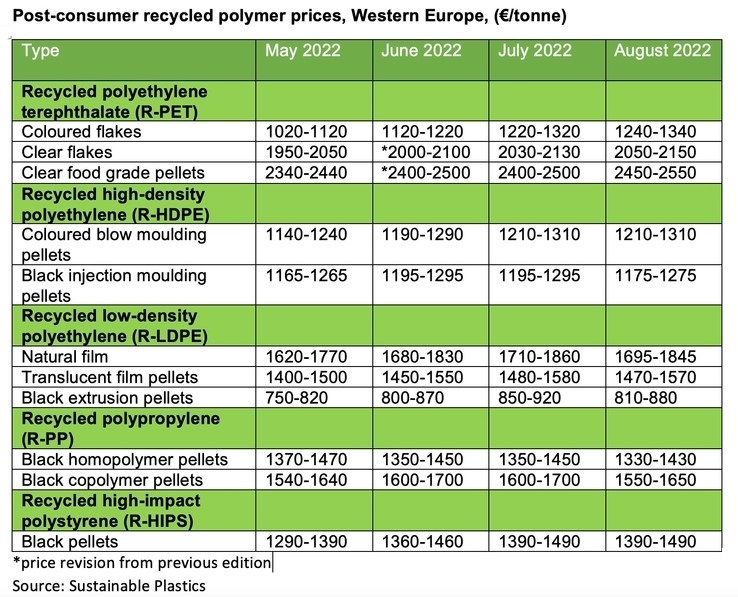 Recycled PET
In July, recycled PET price movements varied widely between the different grades. R-PET colored flake prices climbed by €100 per per tonne on the back of rising mixed and colored bottle scrap prices and limited supply. PET clear flake prices increased by €30 per tonne, which was just less than a €40 per tonne increase in bottle scrap prices. Clear food grade pellets failed to rise for the first time in many months, despite rising bottle scrap costs.
In August, clear bottle scrap prices actually fell slightly, yet recycled PET clear food grade pellet prices resumed their upward trend, rising by €50 per tonne on improved demand. Clear flake and  colored flake prices each increased by €20 per tonne. Demand for all R-PET grades was boosted by the supply shortages for virgin PET. On the supply side, bottle scrap availability has continued to improve during the summer.
Recycled low density polyethylene
In July, supply shortages and strong demand led to an increase in recycled LDPE prices ranging from €30-50 per tonne, which represented a premium above the higher cost base.
Supply was restrained by holiday shutdowns and maintenance programs at recycling plants. Materials based on commercial mixed films and single variety grades saw the strongest demand.
In August, recycled LDPE prices declined within a range of €10-35 per tonne with base material prices down significantly. Material availability remained sufficient while seasonal demand eased slightly, yet remained well in line with expectations.
Recycled HDPE
In July, recycled HDPE colored blow molding pellet prices increased by €20 per tonne while the cost of black pellets for injection molding remained unchanged from the previous month.
In general, material was sufficiently available to fulfill contractual obligations, with few exceptions. Demand for
HDPE blow molding material was well supported by the growing number of sustainability programs by consumer goods manufacturers.
In August, recycled HDPE blow molding pellet prices were settled on a rollover basis, while injection molding pellet prices dropped by around €20 per tonne due to slightly weakening demand.
Recycled PP
In July, recycled PP homopolymer and PP copolymer prices remained stable in a largely balanced market.
There was sufficient material available to meet order requests from both current and new customers. Recycled PP demand from the automotive sector was fairly robust during the summer.
In August, homopolymer prices fell by €30 per tonne while recycled PP copolymer prices were down by €50per tonne largely as a result of a demand downturn from the automotive sector.
Recycled HIPS
In July, recyclers increased the price of recycled HIPS by around €30 per tonne as a result of rising virgin material costs and strong demand. The very high cost of standard HIPS increased the attractiveness of recycled material to converters.
In August, prices remained unchanged from the previous month on slightly weakening demand.
Source : https://www.plasticsnews.com/materials/signs-price-downturn-european-recycled-plastics-demand-falters
Edit : HANDLER