E-mobility drives development of engineering plastics and composites
main text
E-mobility drives development of engineering plastics and composites 
E-mobility is reshaping the automotive industry. To master the next generation applications for electric vehicles (EVs) and autonomous driving, automakers and OEMs reach out for new materials that fit the bill. Thanks to their special properties, plastics can offer promising solutions.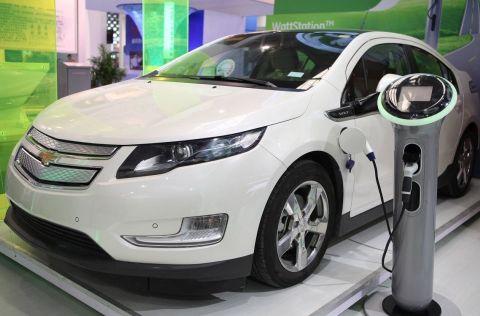 The electric vehicle boom opens more doors for plastics applications.
High-performance composites used in battery applications
The shift from traditional combustion engines to EVs has placed the battery at the heart of e-mobility solutions. However, the standard lithium-ion batteries currently being used to power EVs still face some technical hurdles.
Until now, graphite has been used as an anode material in lithium-ion batteries, but batteries with a higher capacity need new materials that also allow faster charging.
In order to improve the fast-charging capability and energy efficiency of the batteries while maintaining a practical service life, Evonik has introduced the silicon-carbon composite material Siridion Black as a new anode material.
As an additive, Siridion Black composite powder can be quickly integrated into existing anode materials and production processes. It also combines well with other battery materials.
The powder is produced by gas phase synthesis. It consists of isolated unsintered spherical particles that are a few hundred nanometers in size. Within the amorphous particles, the carbon concentration increases from the inside out. This ensures superior stability.
In addition, due to the higher carbon content on the surface, the particles are better protected against oxidation and easier to process
Another main area of focus for EV battery development is lightweight battery housing, thereby reducing the amount of energy required to overcome driving resistance (e.g. tire rolling, gradient, acceleration) and increasing the driving range.
As a member of a consortium of companies, Evonik and partners have developed a brand-independent, cost-effective solution which reduces the weight of the battery housing by approximately 10% compared to other commonly used material combinations, without sacrificing any mechanical properties.
Developed for three different battery-sizes (65kWh, 85 kWh and 120 kWh) for use in various vehicles sizes and classes, one of the key elements of the new solution is the glass fiber-reinforced sheet molding compound (SMC) cover.
Based on the high-performance epoxy curing agent VESTALITE S from Evonik, the new SMC cover delivers the performance levels of metal-based battery enclosures, while being significantly lighter than the current more cost-prohibitive SMC covers.
The glass fiber-reinforced epoxy SMC has superior mechanical properties including flexural and impact strength. By using epoxy resin instead of the usual polyester resin, problems often encountered during downstream processing of glass fiber-reinforced SMC materials have been eliminated.
In addition, it meets all specifications regarding fire resistance and is easy to process even when complex geometries are required. It was also successfully tested for suitability for series production and safety even under extreme conditions.
Notably, consortium partner Lorenz Kunststofftechnik has developed an established process for recycling glass fiber-reinforced SMC materials.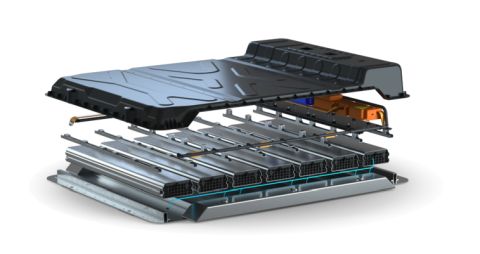 High voltage battery housing for more lightweight and cost-effective e-mobility developed by Evonik and partners. 
There is another collaborative project aiming to explore the potential opportunities and technical challenges for composite technology in the application of battery housings for EVs, using a variety of materials, including thermoplastics.
The project was established by industry network group AZL, who specializes in composite-based lightweight technologies. Other involved partners include EconCore, Audi and others.
For EconCore, a technology leader in honeycomb materials production, this means pre-selecting thermoplastic materials, using different composite skin layers and working through different geometrical design variants, to optimize the honeycomb material to obtain desirable characteristics and share findings with project partners.
EconCore believes that there is tremendous potential in using honeycomb materials, as they have high strength while being very light, compared to aluminium or steel alternatives.
Meanwhile, Continental Structural Plastics (CSP), along with its parent company Teijin, has developed a full-sized, multi-material EV battery enclosure featuring one-piece composite cover and one-piece composite tray with aluminum and steel reinforcements.
By molding the cover and the tray each as one piece, CSP has created a system which is easier to seal and can be certified prior to shipment. The company has also developed a mounting frame utilizing structural foam for energy absorption. This enables a reduced frame thickness and weight, while improving crash performance.
The CSP multi-material battery enclosure is 15% lighter than a steel battery box. Although it is equal in weight to an aluminum enclosure, the CSP enclosure offers better temperature resistance, especially if phenolic resin system is used.
New PBTs gear up for autonomous driving
In recent years, there has been a growing need for lower dielectric losses from the automotive industry, so as to cut transmission losses in high-frequency components for autonomous driving and other applications.
This has led to the adoption of polymer alloys and fillers. However, there are still issues in reducing dielectric losses as such losses from the resin itself are large. At the same time, heat resistance and mechanical property degradation represent the other problems.
Polybutylene terephthalate (PBT) is one of the materials that can meet the requirements from the industry. It has the properties of outstanding dimensional stability and strength and low dielectric loss. It is also easy to mold and process.
Therefore, Toray has developed a high-performance PBT with dielectric losses in the high-frequency millimeter wave band around 40% lower than those of conventional PBT.
Toray constrained the polymer's molecular motion in the high-frequency range by leveraging polymerization technology to attain a new structure. The result is that the PBT delivers a loss tangent of 0.006 in the ultra-wide 79 GHz millimeter wave band. Losses from that factor are around 40% lower than those of conventional PBT while retaining the basic properties.
The new offering keeps the dielectric loss low across 5G communication frequency bands, from sub-6 GHz through high-frequency millimeter wave bands. Dielectric stability is good in very hot and humid environments. It cuts transmission losses and enables wide-area sensing for incident waves from wide angles.
It has been challenging to downsize products without changing the electrical resistance of electric circuits and connectors. The low dielectric loss of resin makes it possible to keep electrical resistance unchanged, which can contribute to shrinking products, reducing weight and improving performance.
The growing trend towards autonomous driving also spurs Polyplastics to position its innovative resin products for use in Advanced Driver-Assistance Systems (ADAS) parts.
Targeted for radar and camera systems parts, the engineering plastics supplier's DURANEX PBT resins deliver low warpage, dimensional stability and low dielectric constant.
For radar housings, manufacturers seek materials with low dielectric constant, stable radio wave transmissibility and low water absorption. Polyplastics found that water absorption has some impact on its DURANEX PBT 330HR grade, and thus is working on the development of new PBT grades with enhanced low-dielectric properties and low water absorption.
For radar brackets, electromagnetic wave shielding properties are needed to protect against unnecessary reflected waves. While DURANEX PBT 7300E conductive grade is actually considered by manufacturers, new PBT grades with stronger electromagnetic wave shielding properties are under development.
In manufacture of car-mounted, sensing camera brackets, low-warpage and high-rigidity materials like DURANEX PBT 733LD and 7407 are generally preferred. Polyplastics has also developed matte technology which uses laser treatment to reduce noise (scattered light) for favorable gloss and blackness levels.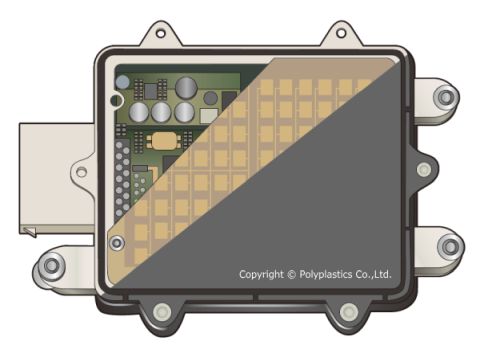 Polyplastics targets PBT and PPS grades in sensor systems for autonomous driving applications. 
To help reaching the full potential of radar for ADAS, SABIC has launched two new materials, LNP THERMOCOMP WFC06I and WFC06IXP compounds, developed respectively for the front and back enclosure covers of next-generation radar units.
The new glass fiber-reinforced PBT grades surpass incumbent PBT compounds in dissipation factor and dielectric constant performance, reducing attenuation of electro-magnetic waves passing through the radar covers to help improve image resolution and range.
They also feature very low warpage that allows designers to potentially create new, thinner covers that improve signal transmission. They provide higher ductility for improved impact resistance and equivalent moisture and chemical resistance when compared to incumbent PBT materials.
Furthermore, they can contribute to efficient radar unit assembly by supporting high-speed, high-precision laser welding. As said, LNP THERMOCOMP WFC06I compound provides good laser transmission performance among PBTs currently available.
BASF has also already made a contribution to a number of sensitive electronic sensor technologies with its portfolio of hydrolytically resistant PBT grades. The company offers radar-optimized plastics used for radar transmission and absorption that increase the accuracy of the radar sensors.
In driverless vehicles, there are far more sensors to relieve drivers of many driving tasks. A range of new sensors, such as radar, lidar, IR and ultrasonic sensors, have found their way into vehicles and the implementation solutions can only be mass produced using plastics, explains BASF.
Thermoplastics open up new possibilities 
The boom in EVs is causing a sharp rise in demand for plastics destined for charging infrastructure. LANXESS is convinced that this application offers a wealth of opportunities to its Durethan polyamides and Pocan polyesters.
The possibilities gained by these thermoplastic compounds are demonstrated in a new design concept for charging inlets. These are installed in EVs and accommodate the charging coupler of the external charging station.
LANXESS' approach uses a modular configuration to get the right material in the right place to meet the complex requirements applicable to the various components with the utmost precision. At the same time, a high level of functional integration makes it as easy as possible to assemble the entire unit.
As the design is the product of collaborative discussions with manufacturers of charging systems, it satisfies the needs of manufacturers to have the flexibility in charging inlet sealing. For example, O-rings, sealing cords or family seals, and lip seals manufactured in two-component injection molding process can be used.
LANXESS is currently considering further applying the new design to assemblies of charging infrastructure such as the charging plug. The design and materials expertise can be deployed to a large extent because the requirements are very similar.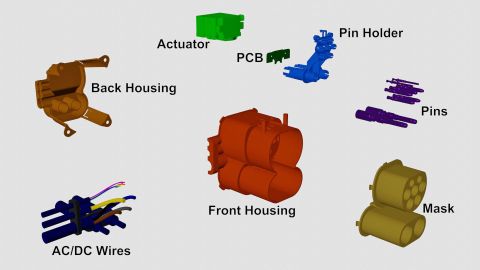 LANXESS' modular design of the charging inlet. All the components are put together with the aid of snap fits. 
An all-plastic brake pedal for electric sports car has been developed by BOGE Elastmetall GmbH, a global provider of vibration technology and plastics applications for the automotive industry.
The pedal has high mechanical strength and is 50% lighter than a comparable steel design. Its composite structure comprises an insert made from LANXESS' Tepex dynalite, a continuous fiber-reinforced thermoplastic composite, and several tapes for reinforcement.
The fully consolidated semi-finished products Tepex dynalite have a thermoplastic matrix that is typically reinforced with layers of continuous glass fiber fabric. The pedal uses a composite structure with a polyamide 6 matrix, which contains unidirectional fiber layers inside and fabric layers with fibers arranged at 45° angles on the two covering layers. The inner layers are what give the component its excellent tensile and bending strength.
Tapes are thin plastic strips with unidirectional oriented, high-strength continuous fiber systems embedded in the thermoplastic matrix. Multiple tapes with glass-fiber rovings are used in the pedal to reinforce the bottom side of the component.
The covering layers of the insert with their 45° fiber layers, combined with the tapes on top, ensure the high torsional strength of the pedal.
The e-mobility trend is also redefining the role and function of vehicle interiors, and there is a growing need for lightweight and sustainable materials which open up new possibilities of weight reduction and user experience.
An example is the collaboration between Covestro and the R&D Center of Guangzhou Automobile Group to develop a lightweight composite seat back for the Chinese automaker's electric concept car, the ENO.146.
While claiming as one of the most aerodynamically efficient vehicles in the world, ENO.146 uses lightweight and sustainable materials to reduce the weight and raise the bar for sustainability.
The backrests of the two front seats are made of Maezio CFRTP, the continuous fiber-reinforced thermoplastic composite material from Covestro. It is estimated that the composite seat backrest can save up to 50% in weight compared to typical metal constructions.
Seats in the passenger compartment are an ideal target for weight savings, as they are among the heaviest parts there. Fiber-reinforced composites are suitable for lightweight automotive construction, and Maezio can further simplify molding and streamline the manufacturing process.
In the case of a seat with a metal backrest, fittings and other attachments add to the complexity of production and assembly. As Maezio is a thermoplastic material, parts and functions can be consolidated by injection molding processing. Functional structures are incorporated into the mold for shaping the backrest, reducing the number of parts and materials.
The design of the vehicle interiors in ENO.146 is inspired by nature. The choice of green color and various sustainable materials is intended to recreate the ambience of a lake with lotus flowers. The surface pattern of the front of the seats is thus designed to resemble lotus leaves.
Maezio CFRTP features a marble-like appearance and a high quality look and feel, and it can be cut and shaped at will to be reused at the end of its service life, making it a sustainable material choice that fits into the design concept of the vehicle.
All in all, new opportunities are opening up in the field of EVs for thermoplastic compounds and composites structures. They are not only much lighter than metals, but can also be processed by injection molding, whilst time-consuming further processing needed is typical for metal components.
Global EV sales set for further strong growth
In the US, President Joe Biden signed an executive order recently to make half of all new vehicles sold in 2030 electric, including battery electric, plug-in hybrid electric, or fuel cell electric. The executive order also sets a schedule for developing new vehicle emissions standards.
The European automotive market is also witnessing a surge in demand for EVs. In total, the new EV registration as of Q2 2021 recorded a growth of at least three times from the Q2 2020 cumulative figure in the EU, according to the European Automobile Manufacturers' Association (ACEA).
The EV market in China, home to the world's biggest market for EVs, has recovered rapidly from the COVID-19 pandemic. In 2020, total EV sales in China were 1.3 million, an increase of 8% compared to the previous year.
The growth of the Chinese market is underlined by China's mission to cut its carbon dioxide emissions to nearly zero by 2060. Low-emissions transport, including EVs, will be one of the strategic industries helping the country achieve the climate goals.
In view of these positive signs, EV's strong momentum is expected to continue in all the major markets, and boost the demand for engineering plastics and high-performance composites in e-mobility related applications.
Source : https://www.adsalecprj.com/en/magazine_show-10640.html
Edit : HANDLER