Henkel develops cure gasketing sealant for car electronics application…
main text
Henkel develops cure gasketing sealant for car electronics applications
Henkel Adhesive Technologies has launched Loctite AA 5885, a new one-component polyacrylate cured in place gasketing product designed to protect sensitive electrical components.
Loctite AA 5885 is a one-part polyacrylate gasket that can be cured within 30 seconds and compressed in assembly immediately after application to help minimize manufacturer cycle times, allowing automotive electronics customers to expedite gasketing and increase production efficiency.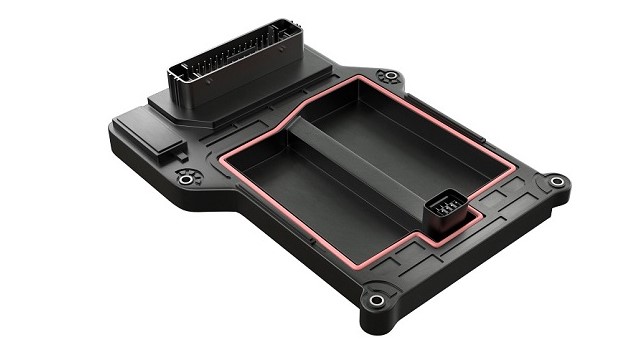 Loctite AA 5885 is a rapid cure customizable gasketing sealant for automotive electronics applications.
The uncured liquid has unique flow properties that permit efficient and repeatable pumpability onto parts with complex shapes and geometries. Once dispensed, its rapid viscoelastic recovery permits high aspect ratio beads to be preserved through curing.
Thanks to its UV-active chemistry, curing can be accomplished within seconds in a continuous mode without the high energy consumption of ovens required by other solutions on the market for similar applications.
Furthermore, parts can be assembled immediately after cooling. Critically, compressive forces are maintained over a broad deflection range, maintaining seal performance at extreme temperatures (-40 to 150°C), while the material is soft enough to increase tooling tolerances without overstressing the part in any environment.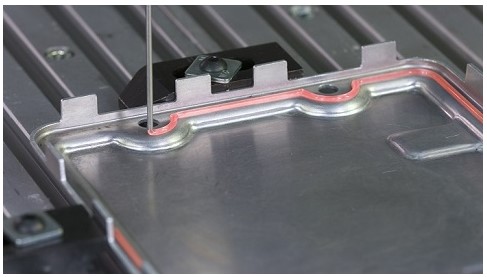 The UV-only-curing allows gasket compression right after the curing process.
The solution enables a significant reduction of the ecological and production footprint by decreasing physical production space and energy consumption. It also offers an optimal combination of structure and softness, delivering lasting durability even when exposed to high pressure water spray, automotive fluids or the high temperatures of the under-hood environment.
The new adhesive has been designed for applications including electronic control unit (ECU) module housings, battery packs, engine and transmission control modules, fuse boxes, actuators, sensing systems, ADAS control Modules, as well as other electronic components. It provides very good adhesion to metals and most plastics.
"With the proliferation of mission-critical electrical systems, automotive customers are seeking ways to minimize the costs of manufacturing while also delivering greater lifetime performance and reliability," said Jeff Koehler, Business Development Manager at Henkel Adhesive Technologies.
Source : https://www.adsalecprj.com/en/news_show-77032.html
Edit : HANDLER